The Venus Viva™ Experience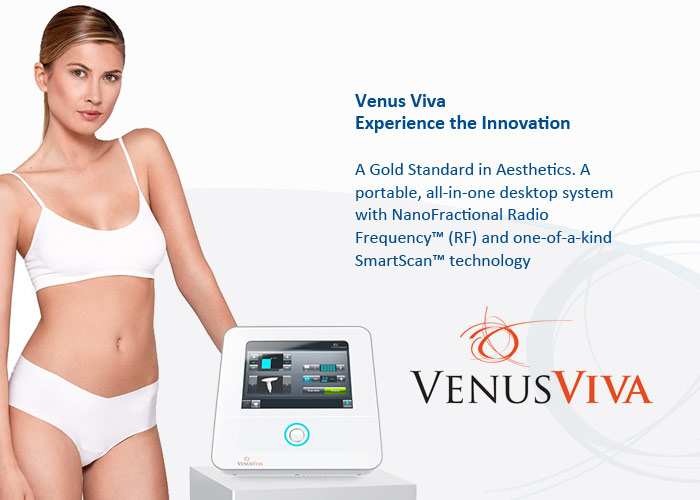 The Venus is a revolutionary and award winning aesthetics system for skin-care. Come try the "Venus Viva Facial" as used by Top models and celebrities.
We are delighted to be the only local provider of Nano-Fractional Skin Resurfacing treatments using the revolutionary Venus Viva™ machine. The Venus Viva™ is an FDA approved advanced skincare system that utilises two different headpieces to enable the delivery of a mixture of patented technologies to the face, neck and other body parts. This machine utilizes radiofrequency energy in a very controlled setting to achieve fractional skin resurfacing at a much lower cost, with less discomfort, and with much reduced downtime compared with traditional CO2 laser skin resurfacing or other laser fractional skin resurfacing techniques.
How does it work?
The Venus Viva™ combines NanoFractional Radio Frequency (RF) and SmartScan technology into a system that delivers proven results through a skin heating process that offers minimal discomfort to the patient. Venus Viva™ designed for use in dermatological procedures for ablation (removal) of soft tissue and resurfacing of the skin. The unique system allows the technician to manually control ablation and coagulation for enhanced treatment efficiency and patient comfort. The use of NanoFractional RF delivers energy through the epidermis, to the dermis, to generate heat and initiate skin change, rebuilding collagen and fibroblast stimulation, all resulting in tissue remodelling. Because the system is "colour blind" meaning it has no laser or light to it, the Venus Viva™ allows for all skin types and locations (except eyelids and lips) to be treated. Benefits of this treatment include the reduction of wrinkles, skin laxity, scars, acne scars, pores, textural irregularities, tone, and superficial skin lesions.
| | PRICE | LATEST OFFER |
| --- | --- | --- |
| Single Treatment | £299.00 | Promotional Price £250.00 (Save £49) |
| Four Treatments | £1000.00 | Promotional Price £900.00 |
| Consultation & patch test | £50.00 | Redeemable against your first treatment |
Venus Viva DiamondPolar
The Venus Viva diamond polar handpiece offers the famous "Venus Freeze Facial" for the face and neck. It uses MP2 technology to deliver multi-polar radio frequency and pulse magnetic field. The Diamond Polar™ handpiece is used to create tighter skin, it softens wrinkles and provides a plumper, fuller more youthful appearance.
| | PRICE | LATEST OFFER |
| --- | --- | --- |
| Venus Freeze Facial ("Facelift of the Future") | £99.00 | Course of 6 sessions £420 (each session £70) |
| Venus Freeze Facial inc. Neck | £115.00 | Course of 6 sessions £540 (each session £90) |
| enus Freeze Facial inc. Neck and Décolleté (55 minutes) | £130.00 | Course of 6 sessions £600 (each session £100) |
| Just Eyes or Lips and Laughter Lines (15 minutes) | £35.00 | Course of 6 sessions £180 (each session £30) |
| Just Neck (15 minutes) or Hands (15 minutes) | £45.00 | Course of 6 sessions £240 (each session £40) |
| Forearms (bingo wings) (30 minutes) | £99.00 | Course of 8 sessions £500 (each session £62.50) |
How many Venus Viva™ treatments will I need?
Venus Viva treatments are most effective when done as a series of treatments, with at least 4 treatments being completed on one specific area, usually in 4-6 week intervals. Multiple treatments are needed for full effects and you will continue to see your improvements develop, becoming more and more noticeable 2-6 months after your series is completed. Maintenance treatments to retain benefits twice a year can be beneficial as aging is an ongoing process.
Who will benefit from the Venus Viva™ Procedure?
Patients with fine lines, wrinkles, and surface irregularities of the skin
Patients with acne scars and surgical scars
Patients with pigment irregularities such as sun damage, brown spots, Melasma (Pregnancy Mask)
Patients with loose skin that want tightening and lifting
Patients that want to improve the tone and texture of the skin (Stretch Marks, Large Pores)
Patients with redness
All skin types, regardless of age and colour
Both men and women
Venus Viva™ Recovery
Due to the unique nature of the treatment head and the RF delivery, the majority of the ablation from the procedure occurs under the skin, as sublative rejuvenation, allowing for less downtime for the patient, less surface skin removal, and better results than treatments done with traditional fractional lasers. Immediately after the treatment, the skin will be red and warm which will resolve in a few hours. Some patients will experience a mild sunburn sensation and redness post treatment, which will generally subside within 36 hours. We suggest that you do not apply any treatments to the skin for the first 24 hours after the procedure. It's so easy and clean that you can return to work or leisure immediately. Avoid any sun exposure for 48 hours following your treatment. A mineral makeup can be applied 24 hours after your treatment. Avene Eau Thermale Thermal Water Spray 50m and Broad spectrum sun protection with SPF of 30 is recommended for daily use during and after treatments.